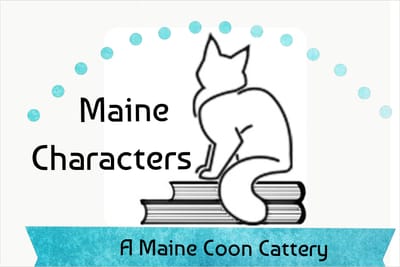 Welcome to Maine Characters, and thank you for visiting! We are an up and coming Maine Coon cattery now located in Spokane, WA! We recently moved and are all adjusting to our new home. Our kittens are raised underfoot, (sometimes literally!) and never caged. Our breeding cats are our pets, and are loved and pampered accordingly. Maine Characters is a CFA registered cattery, and all kittens come with registration papers. Our priorities for our kittens are health, personality and beauty, in that order.
Health first! Because Maine Coons can be prone to hypertrophic cardiomyopathy (HCM), all of our breeding cats have had DNA testing done for the only gene known to cause the disorder, and have been found to be negative. All cats in our home have also been tested and found negative for feline leukemia and feline immunodeficiency virus. Kittens will go home with at least their first set of vaccinations, a vet check, and a health guarantee. Litter boxes are cleaned and sanitized weekly. The mother/kitten room is also sanitized weekly to prevent infection.
Personality is easy with Maine Coons! They have great dispositions to start with, and only get better with good socialization. Kittens are handled and loved, by humans and their kitty mamas, from day one. They have their own room until they are gradually ready to join the rest of the household safely. They live with an aging Golden Retriever, several other cats, and occasionally, a toddler grandson.
As looks go, we like the wilder, more feral look with boxy muzzles and prominent ear tufts and lynx tips. Three of our breeding cats are from Europe where this look is more common.
About the owner/breeder:
Simply put, I adore cats! Big ones, little ones, stray cats, rescued cats, and purebred cats. I got my first Maine Coon several years back, and I was hooked. These "gentle giants" stole my heart! They are the perfect combination of playful silliness and cuddling affection. Breeding them is my hobby and passion. I do it because I love it.
When I am not tending to cats, I work as a Registered Nurse. I've been a nurse for the past twenty-something years, and have worked with patients from birth to death, from the delivery room to hospice. Breeding cats is a lot of work, but I get at least as much from them as they get from me. Nothing beats a purring ball of fur on your lap or a kitten chasing a ball of fluff to soothe the stresses of life. And they make me laugh everyday, which can only be a good thing! I am a 'hobby breeder,' which doesn't mean that I don't take breeding seriously. It means that I don't do it for work, I do it for love!